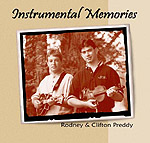 For those of you that wish to purchase via check and mail, click here.
12 Song Instrumental CD Dedicated to Dunk Preddy
Songs
1. Old Joe Clark 7. Peacock Rag
2. Faded Love 8. Kentucky Waltz
3. Gold Rush 9. Rawhide
4. What A Friend We Have In Jesus 10. Down Yonder
5. Walking In My Sleep 11. Orange Blossom Special
6. Maiden's Prayer 12. Ragtime Annie
Rodney Preddy: Mandolin and Lead Guitar, Clifton Preddy: Fiddles, Allen Mullen: Rhythm Guitar, Clyde Mattocks: Dobro, Barney Rogers: Banjo, Dunk Preddy: Voice & Fiddle at beginning of Ragtime Annie; recorded in the late 1970's, Keith Aiken: Rhythm Guitar at beginning of Ragtime Annie; recorded in the late 1970's
Recorded at Heartwood Studio in Garner, NC: Engineered by Bill McDonald and Allen Mullen: Mixed by Bill McDonald, Allen Mullen: Mastered by Bill McDonald at Heartwood Studio in Garner, NC: Produced by Rodney and Clifton Preddy: Photography by "Butch" Gupton: Design by EC Stewart Design Studio in Raleigh, NC
CD Liner Notes
We both started playing music at a little beagle-hunting club in rural southern Granville County of North Carolina at a young age. Dunk Preddy (Rodney's Grandfather and Clifton's Great Uncle) held a weekly jam session there every Monday night. Rodney started playing guitar and mandolin at age twelve and Clifton on fiddle at age three. Bobby Lee Preddy owned the club, Dunk Preddy's brother. Leo Clifton Preddy, Clifton's Grandfather and brother of Bobby Lee and Dunk, would also drop in often to play a little claw-hammer banjo and "woo" the ladies.
Throughout the twenty-some-odd years that this gathering took place, many musicians, both well known and not, passed through the doors of that old little hunting club. But the "regulars" were faithful fixtures throughout the years there every Monday night. Gene Wooten grew up in the area also and got his start playing music there as well. Gene would tell you that like us, he was also influenced by Dunk's musical style to always play the melody. Sadly, Gene passed away from cancer in Nashville in November of 2001. He was a good friend and his famous dobro sound will be missed forever within the music industry.
With this project, we tried to blend our personal tastes and styles with the style played at the old beagle club. For example, "Down Yonder" is played exactly like you would have heard it back then. While other songs, like "Orange Blossom Special" and "Rawhide", allow for more of our personal tastes and styles to show through. But all of the songs that we selected represent not only the heritage of bluegrass and old-time music, but for us personally, they represent a family and community tradition. Each song holds a unique and special memory for us. They tell a story of our family, our up bringing, our influences, and our lives. They bring back images of that old beagle club, the good times that were had there, and pleasant remembrances of those who are no longer with us.
There are few things in life that are as satisfying as looking back on early memories and realizing that without them you would perhaps be a totally different person. We are grateful for those memories and we wouldn't change our traditions or heritage for anyone or anything. We are ordinary guys, with a love of bluegrass and old-time music and memories that will never die or be compromised.
We hope that this recording project will serve as a just tribute to Dunk and all of our family and friends who helped to create those memories. But specifically for Granddaddy/Uncle Dunk, we want to say "Thank you". We both owe our musical start, influences, and styles to him and his old-time fiddle playing. We can think of no greater way to show our love and appreciation than by simply playing some of the instrumentals that he taught us to play during our early years. We love you, and thank you for being so instrumental in shaping our lives.
Sincerely,
Rodney and Clifton Preddy